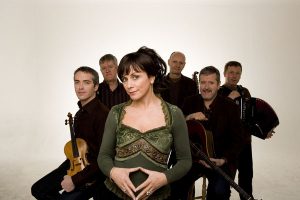 Beloved Irish folk group Dervish enlisted a remarkable array of guest vocalists and musicians for their new album The Great Irish Songbook, including Irish Actor BRENDAN GLEESON on "ROCKY ROAD TO DUBLIN".
Poetry also infuses much of The Great Irish Songbook, such as on the D.K. Gavan-authored "Rocky Road to Dublin," a 19th-century story-song delivered with unabashed brio by famed Irish actor and part-time fiddle player Brendan Gleeson.
The album, which will be released on April 12, was produced by Graham Henderson (Sinéad O'Connor).
The track is available today via all digital service providers. The album is available for pre-order.