Events lined up during Ireland Music Week 2019 -Tuesday 1st | Wednesday 2nd | Thursday 3rd | Friday 4th | Saturday 5th October

Ireland Music Week recently closed its annual call for applications and the line-up will be announced early next month. The first round of international industry delegates (listed below) have been confirmed.The development and progression of the conference (formerly Hard Working Class Heroes) has earned Ireland Music Week both local and international stature for being a must-attend event for anyone working in music in Europe. It is one of the largest gathering of music industry professionals from bookers to labels, managers, music supervisors, radio folk and journalists from around the world and here in Ireland.
"We are especially delighted today to be announcing a keynote address by Kees Van Reijen, President of IMPALA, the Independent Music Companies association. During the span of his career Kees has worked for Universal Music as Executive Vice president, Managing director of Mercury records, MCA and Polydor, and Rough Trade Distribution. In his current role, he is of huge support to us as we launch AIM Ireland and will be welcoming us into the global and international independent music family". – saidAngela Dorgan , director of Ireland Music Week and CEO of First Music Contact – " we are also delighted to be adding a significant amount of international buyers this year, among them more European festivals than have ever attended , including c/o Pop in Germany for their first visit".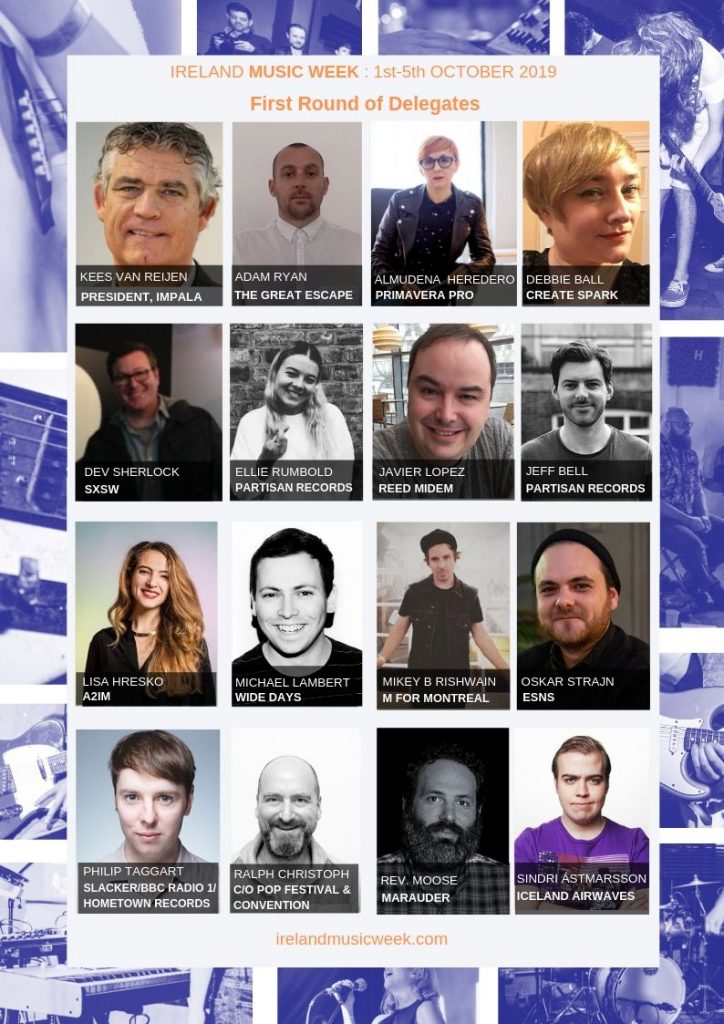 International delegates –
Adam Ryan – The Great Escape
Almudena Heredero – Primavera Sound
Debbie Ball – Create Spark
Dev Sherlock – SXSW
Ellie Rumbold – Partisan Records
Javier Lopez – Reed MIDEM
Jeff Bell – Partisan Records
Kees Van Reijen – IMPALA
Lisa Hresko – A2IM
Michael Lambert – Wide Days
Mikey Rishwain Bernard – M for Montreal
Oskar Strajn – ESNS
Philip Taggart – Slacker / BBC Radio1 / Hometown Records
Ralph Christoph – c/o pop Festival and Convention
Rev. Moose – Marauder
Sindri Ástmarsson – Iceland Airwaves
(more to be announced in the coming weeks)
The conference itself will grow from a two-day to a four-day event with workshops and panels on a multitude of areas you need to be aware of as you grow as an artist or professional in the music sector. Tuesday and Wednesday will see dedicated B2B conference elements to facilitate the needs of the newly formed FMC-founded AIM Ireland, along with other offerings from new strategic partners introducing new audiences for Irish music around Europe as well as more networking and masterclasses to be announced closer to the dates. On Thursday, a targeted networking event will take place in Lost Lane, where international delegates will be invited to network with their Irish counterparts and artists attending the conference. The live showcases will take place across Friday and Saturday, the 4th and 5th of October.
Tickets via Eventbrite are priced as follows (excluding charges)
Delegate Pass €100.00 (conference and showcases) (discounts available to AIM members)
Conference only €65.00
Weekend Showcases €35.00
Friday Night Showcases €25.00
Saturday Night Showcases €25.00
Single Venue Showcase €12.50 (only available on the door at the venues)
VENUES – The Grand Social / Lost Lane / The Button Factory / The Workman's Club
https://www.eventbrite.ie/e/ireland-music-week-tickets-64779562415
First Music Contact, who run Ireland Music Week, work with Irish acts from the very beginning of their careers. The annual showcase has expanded from a 3-day event to a 5-day event, providing Irish artists with an opportunity to gain some vital exposure, provided by the stellar mix of influential Irish and international delegates who attend IMW.
In 2017, IMW reduced the number of bands showcasing to 50, highlighting the need for acts to have a development plan and an eye on international activity. The success of this move resulted in a record number of Irish acts being selected for overseas showcase events including SXSW, The Great Escape, Eurosonic, Reeperbahn, Primavera Pro and more.
Some of last year's big successes to progress from the festival include Just Mustard, The Wood Burning Savages, Wild Youth, Æ Mak, Flynn, Pillow Queens, ROE, Bad Bones, A. Smyth, Kitt Philippa, Laoise,THUMPER, Maria Kelly, Molly Sterling, Joshua Burnside and more.
Since its inception in 2003, the festival has showcased many of Ireland's best-known acts includingFontaines DC, David Keenan, Soulé, Daithí, whenyoung, Bitch Falcon, Jafaris, Chasing Abbey, Saint Sister, Wyvern Lingo, Jealous of the Birds, Fangclub, Touts, The Academic, Choice Music Prize winnersRusangano Family, Villagers, 2013's breakthrough act Hozier, along with Girl Band, Jape, The Coronas,Talos, Le Boom, Loah, Soak, Ham Sandwich, All Tvvins, Otherkin and many more.
|| Ireland Music Week is supported by The Arts Council / Culture Ireland / Dublin City Council Local Enterprise Office (LEO) ||