Tuam's Brendan Murray, who represented Ireland in the 2017 Eurovision Song Contest, returns with his new single, Little Island.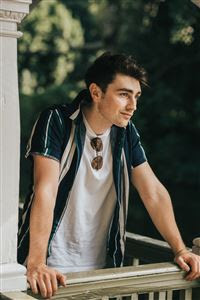 The 24-year old singer songwriter began his career with Irish boyband HomeTown in 2014. The band achieved two number one singles in Ireland, with their first single Where I Belong becoming the fastest-selling single from a debut act and the fastest-selling single from an Irish artist in 2014.
In 2018, Brendan entered season 15 of ITV's The X Factor. During the Six Chair challenge he received a 'safe seat' from One Direction's Louis Tomlinson, helping him reach the semi-finals and finishing in 5th place.
Since his success with HomeTown, Eurovision and X factor, Brendan has been consistently releasing his own original music over the last couple of years and has been placed on leading Spotify playlists such as Chilled Pop Hits and Very Nearly Nashville.
Available from October 8th on all streaming platforms, Little Island is a testament to young love and heartbreak with a sublime acoustic sound, polished by its high production quality and radio-friendly tone.
Brendan collaborated with TikTok star and Irish radio regular Robert Grace (Fake Fine) to co-write this track, alongside Mark Caplice, also responsible for the 2018 Irish Eurovision entry.
Since the beginning of 2021, Brendan has headlined a concert in the Maldives and gained over 30k followers on his TikTok account, where he regularly posts song covers.
His last single release Deep Fake was featured as the iRadio Irish Track of the Month and received national airplay on RTE 2FM, Spin 1038, and other major Irish radio stations.