Helping Ballina Arts Centre to maintain its prominence as a venue that serves up some high quality music shows was local artist Joe Clarke, whose gig last Saturday night won over many new fans to this songwriting talent.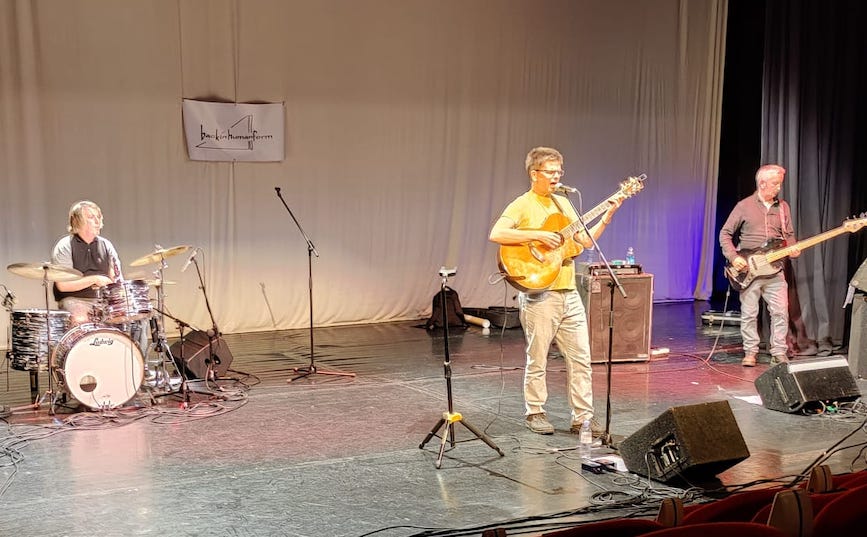 Joe spent some years in Manchester, where he played and recorded with the band Adventures of Salvador during the last decade, before eventually taking shape as the solo artist backinhumanform and releasing his debut eponymous album.
That album reveals guitar-driven songs along with vocals from this Ballina-born singer and musician that range across the spectrum from hopeful to foreboding. It's no surprise that it has has attracted an impressive following on You Tube.
The Ballina Arts Centre show was the first live performance of songs from backinhumanform, and the band featured musicians Colm Cahill (drums) and John Hanly (bass).
As well as performing songs from his current album, including the much-lauded Auld Lang Xiety (watch the video below), Joe also unfolded some new music for the appreciative audience.
Joe recorded his album backinhumanform three years ago in Vibe Studios in Manchester, which is owned by Mock Turtles' frontman Martin Coogan. Martin is brother of British comedian Steve Coogan, and their mother was from Mayo.
"The Ballina Arts Centre gig was my first live show in quite a while, and I expect to play live regularly from now on," said Joe.
No doubt, there will be some new recorded material on the way too.